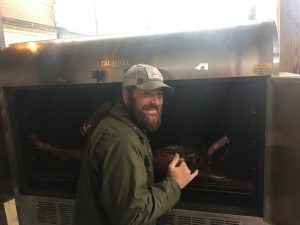 The one and only, Tank Jackson, and legendary pitmaster Phil Wingo are at Pig Beach in Brooklyn, New York today cooking our heritage breed pasture raised pork from Charleston, SC.  These fine swines were finished on acorns from our low country live oak trees.  New York city has a lot to offer but, today, only in Brooklyn can you find pit master and farmer Tank Jackson cooking and raising pasture pork!
Pig Beach
480 UNION Sreet
Brooklyn, New York 11231
Not in Brooklyn?
Visit the HCH Store and order our sausage!